GRUND America is changing the way people think about home comforts with our beautiful products and excellent education around the health and safety of choosing organic cotton.
First off, we realized that the chemicals associated with traditional cotton makes it the dirtiest crop on earth. It consumes 16% of the world's insecticides and requires $2 Billion in pesticides each year.
Pesticides and insecticides used in cotton production contaminate the soil we use to grow crops, the air we breathe and the water we drink. The deaths of animals exposed to these contaminants is counted in the millions every year.
SAFE FOR THE EARTH. SAFE FOR YOU.
GRUND, as a brand, was born on a promise to provide safety. Safety for the earth, and safety for you, our valued client.
DO SOMETHING GOOD FOR YOURSELF
We all know the benefits of eating organically. The purity of the food we consume means we ingest nothing but nutrients - not chemicals.
The same goes for choosing beauty and skin care products that are "green".
Although the FDA doesn't currently have many restrictions on cosmetics, once you dig deep and learn about it, it is difficult to go back to big named brands that are full of chemicals that can cause cancer and other endocrine dysfunctions.
The same goes for Organic Cotton.
We lie in our beds covered in sheets, or wear clothing that cover our bodies a majority of our day. It is known that what comes in contact with our skin enters the bloodstream within seconds (26 to be exact).
However studies are still being conducted on the effects of chemicals in textiles, why would you want to take the chance?
Our promise is this... Safe, clean products - for everyone - that will perform for years to come.
Buying Organic Cotton is an investment. With GRUND, it's an investment that you can feel secure about. You can try our product risk free for 60 days.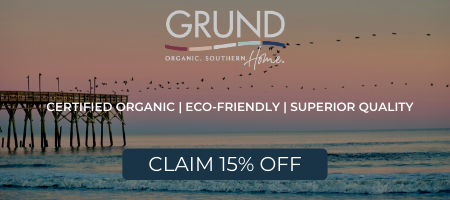 And the consequences don't stop there. Others include:
Extreme water waste. 10,000 liters of water to process just one single kilo of conventional cotton.

Cancer due to chemical exposure, not to mention asthma , birth defects and miscarriages.

Unfair work conditions that lead to suicide. Sadly, suicide rates among cotton farmers have been high in the last 20 years. In the year of 2013 alone 11,772 farmers committed suicide in India.
So, as you can see, the use of Organic Cotton spares health, resources and mental health and livelihood of all those who choose it over traditional cotton.
Once you fall in love, we also guarantee everything we make to be free of defect for 5 years. Our Care Team is dedicated to ensuring you are satisfied beyond normal expectations. We are here for you. Always.
Thank you for taking this journey with us. We value you, your investment in us and most importantly the trust you put in us to protect you and your family. We will not let you down, promise.
Love,
GRUND
Copyright 2020 © Live Grund